Credentials are the most important part of a consulting firm.  Environmental Safety Consultants (ESC) has all credentials needed to serve you professionally.  ESC is licensed, accredited, and certified to provide its professional consulting services.  We take great pride in our in house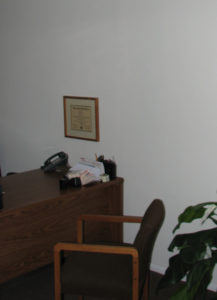 knowledge, credentials, experience, and capabilities.  We strive to complete court-defensible work in all areas for you, the Client.  We do not provide services in areas we are unsure of.  We value your time and refuse to waste it.
ESC has been in business since 1986 and its staff has over 100 years of combined experience.  Following are some of our credentials.  These include licenses, accreditations, and certifications.
Engineering – Florida Licensed Engineering Business & Florida Licensed Professional Engineer (PE) on Staff
Certified Industrial Hygienist (CIH, American Board of Industrial Hygiene) on Staff
Mold – 3 Florida Licensed Mold-Related Services Assessors on Staff
Asbestos – Florida Licensed Asbestos Consulting Business

Florida Licensed Asbestos Consultant (LAC) on Staff
3 Accredited Asbestos Inspectors on Staff
2 Accredited Florida Asbestos Project Monitors on Staff
2 Accredited NIOSH 582 Equivalency Microscopists on Staff
3 Accredited Asbestos Supervisors on Staff
Asbestos Management Planner & Project Designer on Staff

Lead Based Paint – EPA Certified

Risk Assessor on Staff
Inspector on Staff

Visible Emissions – 2 Certified Visible Emissions Evaluators on Staff
Phase I Environmental Site Assessors – 3 Licensed Environmental Professionals on Staff
Radon – 2 Certified Radon Measurement Technicians on Staff
Professional Memberships

American Industrial Hygiene Association
American Board of Industrial Hygiene
International Society of Technical & Environmental Professionals
These credentials qualify Environmental Safety Consultants to complete your project properly the first time.  ESC staff members can quickly recognize what your needs are and tailor our services to quickly and efficiently meet those needs.  It starts with formulating and verbalizing your objective.  Once that is done, a scope of work can be prepared.  After that, the turnaround or schedule must be determined.  Finally, the fee can be calculated.  At that point, assuming you are in agreement, a Professional Services Agreement will be prepared.  The agreement will provide all of the proceeding details, plus the terms and conditions.  Once you execute the Agreement, ESC will rapidly go to work.  Relax and ESC will take care of all your needs!